The Victorian Government has confirmed the creation of a dedicated new authority to deliver the preferred stage one route for the biggest transport project to be built in Victoria.
The project called the Suburban Rail Loop, is a 90-kilometre rail ring around Melbourne's middle suburbs that will better connect people to jobs, universities, TAFE's, healthcare and each other.
Premier Daniel Andrews joined Minister for Transport Infrastructure Jacinta Allan today to confirm the preferred alignment and station precinct locations from Cheltenham to Box Hill for the Suburban Rail Loop.
"This dedicated new authority will ensure the biggest public transport project in our state's history becomes a reality," Premier Andrews said.
"The Suburban Rail Loop will better connect Victorians to jobs, education and each other. We promised to get on with it, and that's exactly what we're doing," he added.
The project will connect every metropolitan train line from Cheltenham to Werribee, create a rail link to the airport and build three transport super hubs at Clayton, Broadmeadows and Sunshine to connect regional passengers to the Suburban Rail Loop.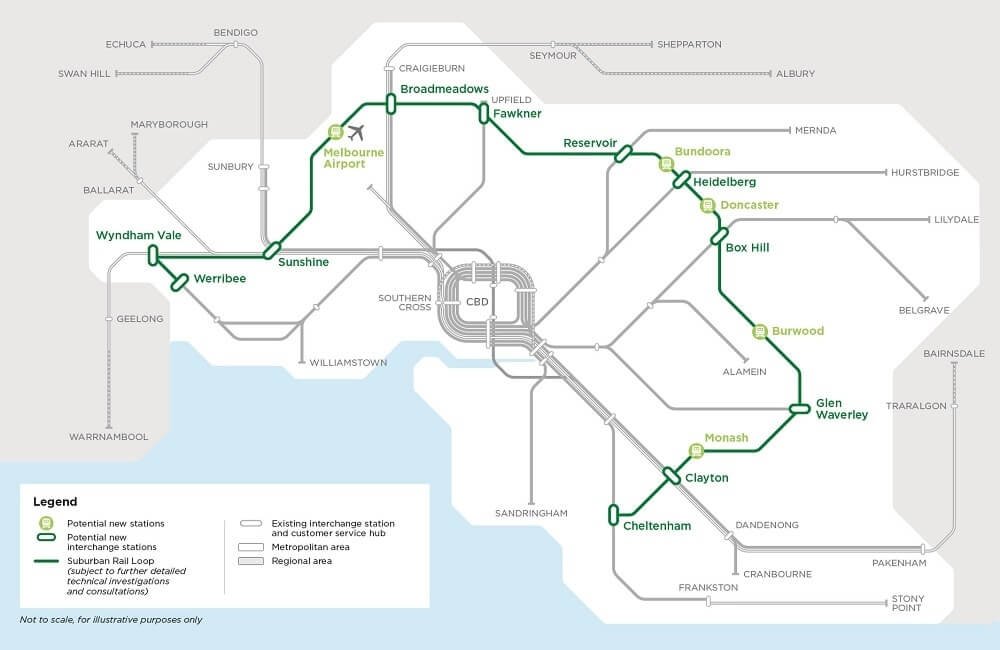 Once the rail loop is finished, a passenger from travelling from Glen Waverley to Bundoora, for instance, can bypass the City by taking a single rail line.
The design and delivery of the project will be led by the Suburban Rail Loop Authority. The new Authority will start its work this week and be headed by incoming Chief Executive Nick Foa, who has extensive experience in infrastructure, planning and government administration.
"I'm excited to work on this once in a generation project, which will create stronger connections between suburban Melbourne, create more open spaces and provide new opportunities for business in the suburbs," Mr Nick Foa said.
Mr Foa and his team will immediately begin consultation with local government, universities and other key institutions and stakeholders on options for where stations will be located in the precincts.
This consultation, along with the geotechnical work already underway, will inform the development of the Business Case. A Registration of Interest process for local and global firms has also begun to establish the best team to build the project from 2022.
The Suburban Rail Loop will cut congestion right across Melbourne's transport network and create more than 20,000 jobs during construction.
"Right now we're delivering the West Gate Tunnel, removing level crossings, upgrading suburban roads, getting on with the Metro Tunnel – the Suburban Rail Loop is the next step in the future of our transport network," Minister Jacinta Allan said.
For more information or to have your say visit www.suburbanrailloop.vic.gov.au.